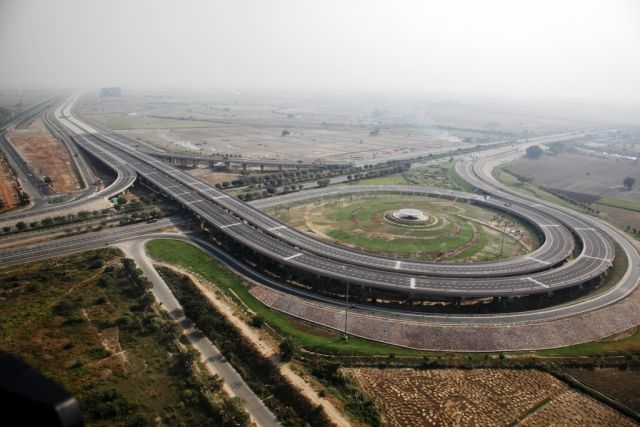 The Yamuna Expressway Project, formerly known as Taj Expressway was started the Government of Uttar Pradesh to reduce the travel time between New Delhi and Agra. The main reason behind this project is to connect the National Capital Region to Taj Mahal. Agra is about 210 km away from Delhi by road and it takes almost 3-4 hours (depends upon traffic and other conditions). A day visitor normally spends nine to ten traveling hours on a return trip between Delhi and Agra which leaves him with very less time in Agra to see the Taj and other places of historical importance. From The Yamuna Expressway, the distance between the Greater Noida and Agra is reduced to 165 km which takes almost 100 min (two-and-a-half hours).
The Yamuna Expressway is a 165 Km long controlled-access expressway which connects Greater Noida with Agra. The 6-lane (extendable to 8 lanes) expressway is the India's longest six-lane controlled-expressway.
Objectives of The Yamuna Expressway:
To provide a fast moving corridor to minimize the travel time
To connect the main townships / commercial centres on the eastern side of Yamuna
To ensure development of adjoining area
To relieve NH-2 which is already congested and runs through the heart of cities like Faridabad, Ballabgarh and Palwal
The Yamuna Expressway along with the existing NH-2 and NH-91 and interconnectivity between all three of them will form a good network of roads which in turn, open up a vast area of all-round development.
Accelerate movement of supplies and help to affected areas during Yamuna floods and other emergencies.
Features of the Yamuna Expressway:
Speed Limit of heavy vehicles is 60 km per hour
India's longest access-controlled concrete expressway
Toll plazas with 16 gates on each side
Medical facilities like vans, stretchers, bed, etc on call
Tie-up with two major hospitals, with air ambulances for emergencies
Expressway covered with CCTV cameras
Vehicle speed monitored through the cameras.
Fuel Stations, Food Courts, ATMs and public convenience facilities soon.
Facts of the Yamuna Expressway:
| | |
| --- | --- |
| Total Length (Greater Noida to Agra) | 165.537 Km |
| Right of Way | 100m |
| Number of Lane | 6 Lanes extendable to 8 lanes |
| Interchange | 6 |
| Main Toll Plaza | 5 |
| Bridges | 41 |
| Cart Track Underpasses/crossing | 76 |
| Culverts | 183 |
Toll Rates of Yamuna Expressway:
Toll will be charged at three points at 38 km, 95 km and 150 km from Greater Noida.
| Vehicles | Aligarh (Rs.) | Mathura (Rs.) | Agra (Rs.) | Round Trip (Rs.) |
| --- | --- | --- | --- | --- |
| Two wheeler | 50 | 100 | 150 | 240 |
| Car/Jeep/Van | 100 | 220 | 320 | 510 |
| LCV/Mini-Bus | 150 | 350 | 500 | 800 |
| Bus/Truck | 300 | 700 | 1050 | 1680 |
| Multi-axle Vehicle | 450 | 1050 | 1600 | 2560 |
| 7+ axle Vehicle | 600 | 1400 | 2100 | 3360 |
Speed Limit:
| Vehicles | Speed Limit (kmph) |
| --- | --- |
| Cars and Other light vehicles | 100 |
| Buses & Trucks | 65 |
| Motorcycles | 50 |