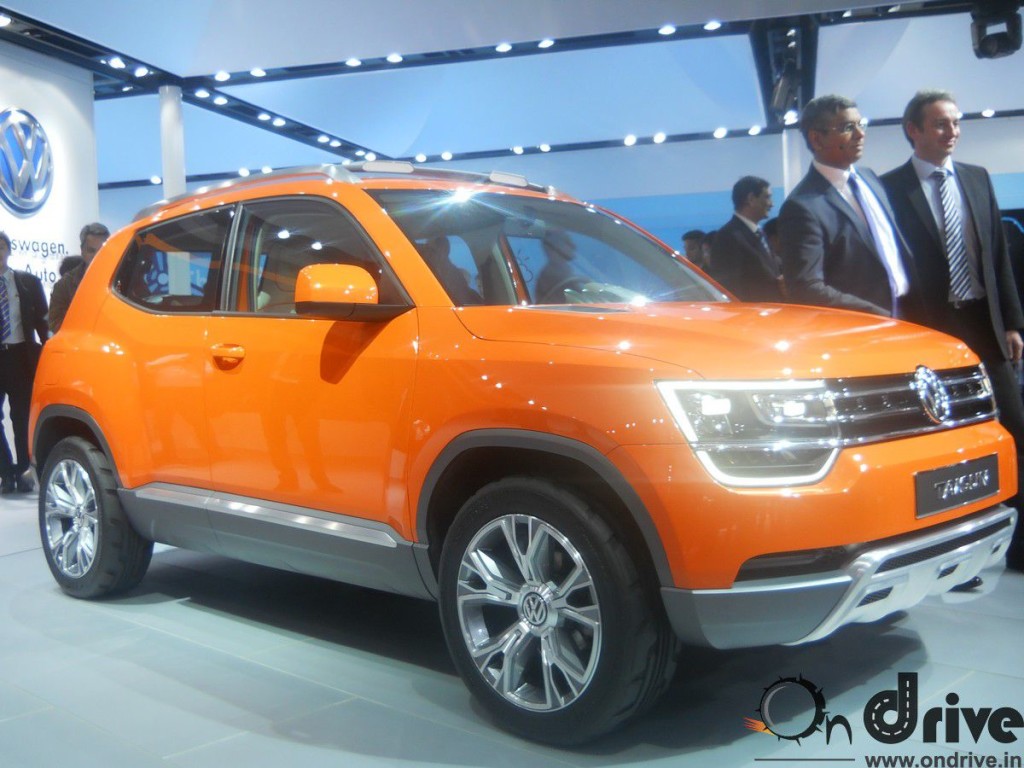 Volkswagen unveiled SUV concept car Taigun at Auto Expo 2014. Volkswagen Taigun is reached near-production stage and soon this compact SUV will launch in India.
Volkswagen Taigun is powered by 1 litre TSI Turbocharged direct injection petrol engine with maximum power of 81 kW and maximum torque of 110 PS. The car will sprint from 0 to 100 kmph in just 9.2 seconds. Top speed of Taigun will be 186 kmph. The petrol engine is combined with 6-speed manual gearbox.
The 17-inch alloy wheels is adept at handling off-road terrain thanks to its high engine torque and high ground clearance. The compact SUV comes with an ESC electronic stabilization program which reduce the risk of skidding.
The Taigun design is very attractive and sporty. Front the side, the flared wings will surely catch your eye. The designer also worked in the rear door handles so that they sit flush and appear to be a part of the window design. Roof rails with integrated LED spotlights upgrade the vehicle off road look.
The Taigun is equipped with an infotainment system on the dashboard, it offers interfaces for all Smartphone's. When you connect infotainment with Smartphone, a Taigun Infotainment App will appear on the display.
The Volkswagen Compact SUV is not yet available for production. But we will bring more details soon. Till then enjoy Taigun photos: