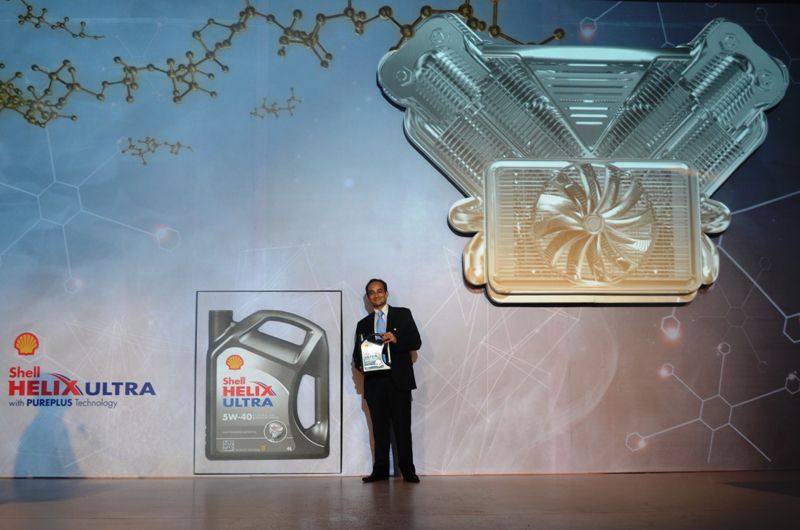 Shell Lubricants launch the next generation motor oil in India. Shell Helix Ultra with Shell PurePlus Technology features a base oil designed from natural gas. This is completely new method to produce premium motor oils.
Shell Helix Ultra PurePlus Technology is manufactured through a Gas-to-Liquid (GTL) process that converts natural gas into a crystal-clear base oil with virtually none of the impurities which are found in crude oil. This will result the most advanced synthetic motor oil to date.
Shell Helix Ultra is produced at the Pearl Plant in Qatar a partnership between Shell and Qatar Petroleum. They're using natural gas from Qatar North Field – the world's largest natural gas field. In a gasifier, methane reacts with pure oxygen to produce synthesis gas. The synthesis gas then enters one of 24 reactors at the plant, where chains of hydrocarbons are rearranged and transformed into a liquid base oil virtually free of all the impurities found in crude oil.
"More and more engine makers are now recommending fully synthetic motor oil because it provides better cleansing and engine protection through a wider range of conditions. In addition to enhanced cleansing, Shell Helix Ultra provides superior wear and corrosion protection which can help to extend engine life and reduce maintenance costs. With Shell PurePlus Technology, we are confident that no other engine oil can keep engine closer to factory clean", said Akhil Jha, Vice President, Technical(Lubricants), Shell India Markets Pvt. Ltd
Speaking at the launch, Nitin Prasad, Managing Director, Shell Lubricants India said: "We are proud to bring the revolutionary Gas-to-Liquid (GTL) technology to India. Developed through decades
of research and development at Shell's laboratories all over the world, the technology harnesses the power of gas to produce the next generation motor oils. In India, where the market is fast evolving
towards synthetic products, we believe the time is right to introduce this innovation through our motor oils."
Features of Shell Helix Ultra with PurePlus Technology
Oil performs even in extreme low temperature
Oil has low viscosity, low-friction formulations, 3% greater fuel economy
Low-evaporation formula reduced the loses less than 10%
Ultimate active cleansing power with unsurpassed sludge protection
Shell Helix Ultra with PurePlus Technology already received OEM approvals from Maruti Suzuki, Hyundai, Ford, Nissan and General Motors in India. The oil is currently being rolled out in markets in India.