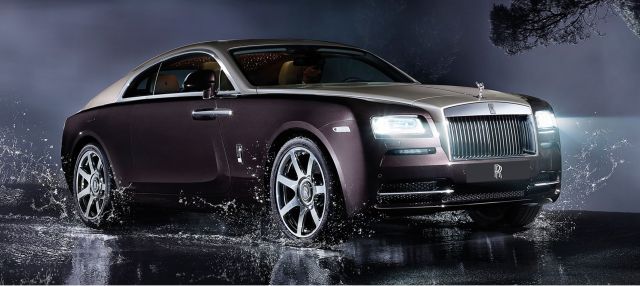 Rolls-Royce Motor Cars unveiled the Rolls-Royce Wraith at Geneva Motor Show 2013. The company claimed that Wraith is the most powerful and dynamic Rolls-Royce in history.
Rolls-Royce Wraith packs with a V12 engine mated with a 8-speed automatic ZF transmission which produces max. Output of 624 bhp/456 kW and max. Torque of 800 NM at 1500 RPM which accelerates the car from 0-100 km/h in just 4.6 seconds. The car suspension has also been tuned to minimize body roll and discreetly amplify feedback when cornering; wheel steering weight is heavier at high speeds and lighter at low speeds adding to the spirited drive. Other than this, a wide rear track, shorter wheelbase and lower roof height further contribute to the power of the car.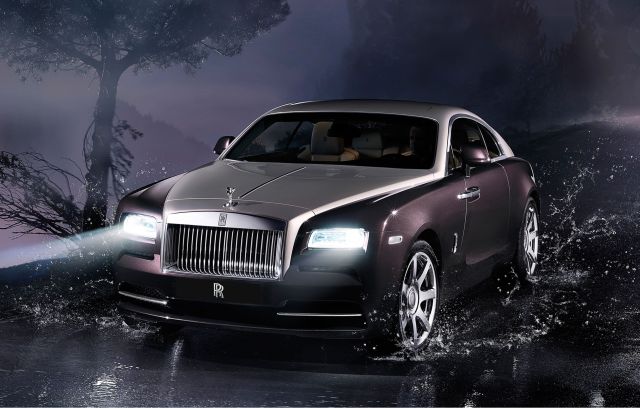 The company added new technology called Satellite Aided Transmission (SAT). SAT uses GPS data to see beyond what the driver sees; it anticipates his next move based on location and current driving style, then selects the most appropriate gear for the terrain ahead.
Wraith also features Voice activated commands. For example: come with a one-touch call button located on the steering wheel. A destination no longer requires manual input from a navigation menu and route assistance begins immediately, on-screen and via audio guidance following a voice command such as 'navigate to India Gate in New Delhi'.
When it comes to design, the Bold lines, tension in the panel, grille, wide rear track, dramatic two-tone presentation and a raked rear screen evoke gives the car its unique character. The interior ambiance is complemented by Starlight Headliner, a Bespoke feature available beyond Phantom family cars for the first time. 1,340 fibre optic lamps are hand-woven into the roof lining to give the impression of a glittering, starry night sky.
Technical Specifications:
| | |
| --- | --- |
| Dimension | 5269 x 1947 x 1507 mm |
| Wheelbase | 3112 mm |
| Turning Circle | 12.7 m |
| Engine | V-Engine 12 Cylinders 48 Valves |
| Fuel Management | Direct injection |
| Max. Output | 465 kW at 5600 rpm |
| Max. Torque | 800 Nm at 1500-5500 rpm |
| Top Speed | 250 km/h |
| Weight | 2360 kg |
Price & Availability:
In Europe, Rolls-Royce Wraith will be priced at Euro245k. Confirmation and further pricing details in all markets will be revealed later in the year.