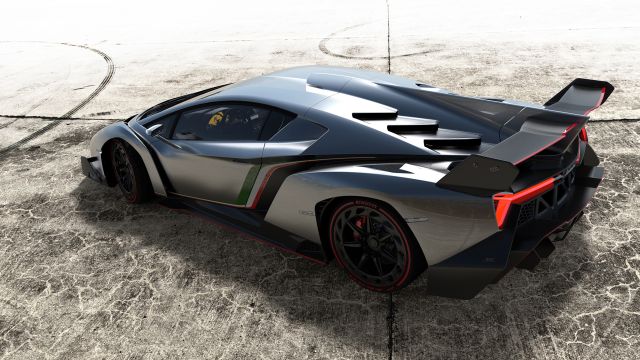 Lamborghini launched its new racing prototype and road-going super sports car, the Lamborghini Veneno at the Geneva Motor Show 2013.
The Lamborghini Veneno twelve-cylinder engine with a maximum output of 552 kW/750 hp will accelerates the Veneno from 0 to 100 km/h in just 2.8 seconds and top speed for this street-legal racing car stands at 355 km/h.
To reach at such high speed, Lamborghini Veneno brings the aerodynamic efficiency of a racing prototype to the road. The front part of the car has designed for perfect airflow and downforce. The front end works as a large aerodynamic wing. Large channels guide the air to the outlets in the front hood and in front of the windshield, as well as to the front wheels. Characteristic for Lamborghini is the Y shape of the angular headlamps that reach well into the fenders as well as the scissor doors. The division of the fenders from the car body is a reference to the world of sport prototypes and optimizes at the same time the aerodynamic flow. The side line of the Veneno is therefore dominated by enormous sills and the mighty wheel arches front and rear. Here, too, sophisticated aerodynamics ensure perfect airflow to the large openings for engine cooling and intake air.
Just like front part, the rear of the Veneno has also been optimized for underbody aerodynamics and high speed cornering stability.
The allow wheels measures 20-inches at the front and 21-inches at the rear and are equipped with center mountings. The carbon fiber ring around allow wheels works like a turbine to deliver additional cooling air the to the carbon-ceramic brake discs.
Price:
The Lamborghini Veneno priced at three million euros. Only three unique units of this car will be built and sold.