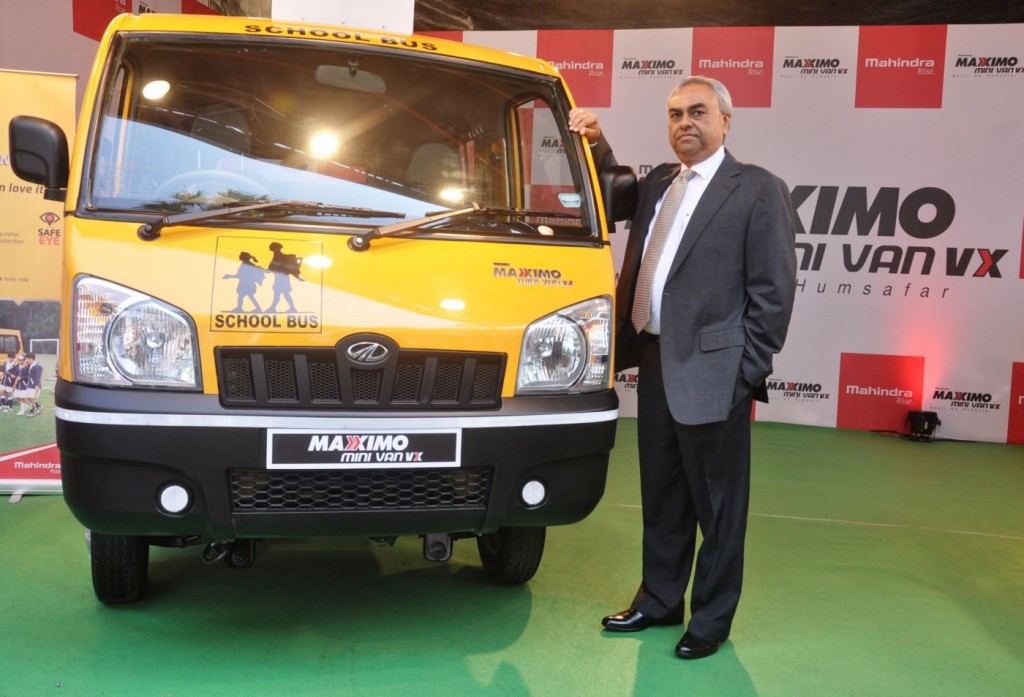 Mahindra announced the launch of SafeEye feature for School Bus. The technology solution will be fitted into Mahindra Maxximo Mini Van VX school bus.
With SafeEye feature, Parents and school administrators will now be able to keep track of their child's bus in real-time via a live streaming video streaming feed. This would be possible through GPS technology on a 3G network by the use of an Android application.
The SafeEye will also offer SMS alert, location and speed limit tracker. The SOS feature will also allow parents and school administration to get updates whenever there is an unusual deviation of route or an accident. Now Parents and School parents can ensure safety of their children travelling to and from school.
The Maxximo Mini Van VX School Bus launched in July 2012 and since then the company made many chances to ensure safety of the children. Some great features are: Monocoque chassis with Independent Front Suspension for a comfortable jerk free ride for children; child locks on sliding doors to ensure that children do not accidentally open the doors when the vehicle is being driven; LSPV Brakes to ensure robust and reliable braking every time it is required; horizontal grills on all side windows, fire extinguisher, emergency braking hammer, an emergency exit and first aid kit.
Features of SafeEye:
Parents and School Administrators can track the location and speed of the vehicle as well as the driving patterns of drivers to control rash driving.
Parents will get SMS alerts when the vehicle is about to reach the student's home as well as when it reached the school. Same case with School Administrators.
Parents, and Principals / School Administrators can track the location of the School Bus in real time on a GPRS Map with the help of a mobile app on their Android Phone or PC
Principals get a message whenever there is any rash driving, unusual braking patterns, etc. (Hope school administrator has good driver otherwise their phone will continue in siren mode).
In emergencies like accidents, SOS messages are sent to mobile numbers of Principals / the school administrators
Parent/Principal alerted in case of Bus deviating from pre-set route, rash driving, sharp turning, unusually sharp braking or non-scheduled stops.
On-board camera which keeps 48 hours of video feeds
Watch live scene inside bus in their android app.
Price:
Price of Maxximo Mini Van VX School Bus with SafeEye (Without Live stream): ₹ 4.37 Lac (ex-showroom Mumbai)
Price of Maxximo Mini Van VX School Bus with SafeEye (With Live stream): ₹ 4.88 Lac (ex-showroom Mumbai)