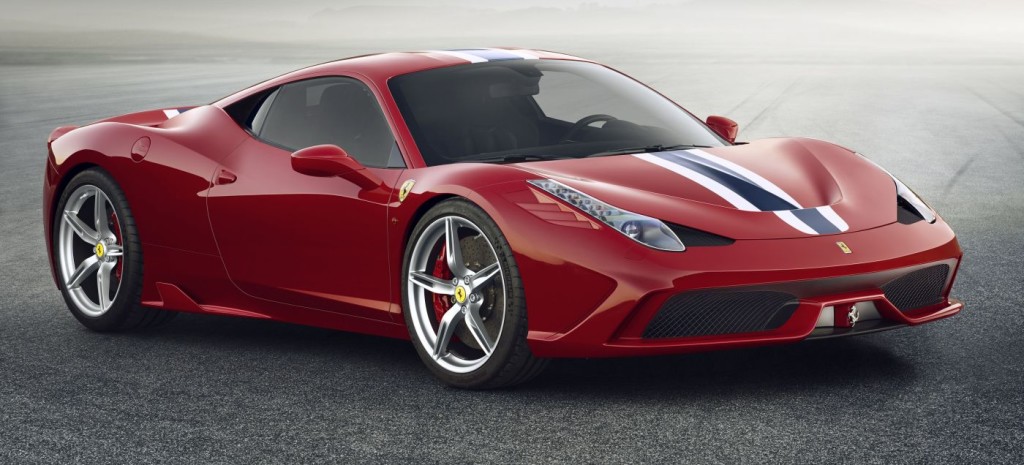 Ferrari will unveil its latest sports car, Ferrari 458 Speciale at Frankfurt. The Ferrari 458 has advanced active aerodynamics, very first time to be applied in-range cars and it will become a standard feature of all new Ferraris in the future.
The Ferrari 458 Speciale is equipped with V8 4495 cc engine which produce  maximum power of 605 cv at 9000 rpm and maximum torque of 540 Nm at 6000 rpm. The V8 engine was designed to boost performance, smoothness and effortless control in all kinds of situations. The 458 Speciale can sprint from 0 to 100 km/h in just 3.0 seconds and also clocked a lap time of just 1:23:5 at the Fiorano circuit.
The company improves the aerodynamic feature by improving front and rear movable aerodynamics which balance downforce and cut drag. The company also improves the technology that's used in the vehicle dynamics subsystems which gives the driver instant confidence and control at high speeds, natural power oversteer management and precise response to commands.
Ferrari 458 Speciale has new feature Side Slip angle control system (SSC) which makes easier to achieve car controls at high speed.
The Ferrari 458 Speciale will give its appearance at the Frankfurt International Motor Show in September.
Specification:
| | |
| --- | --- |
| Engine | V8 |
| Displacement | 4495 cc |
| Maximum Power | 605 cv at 9000 rpm |
| Maximum Torque | 540 Nm at 6000 rpm |
| Weight | 1290 kg |
| 0-100 km/h | 3 seconds |
| CO2 emissions | 275 gr/km |