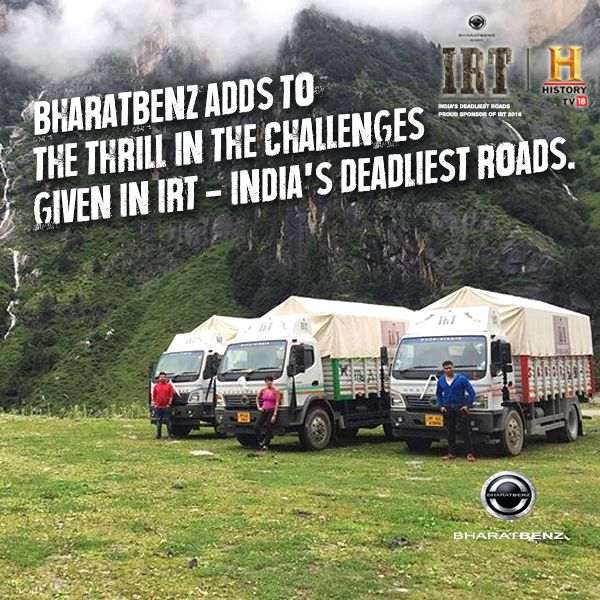 The Indian version of popular TV show Ice Road Truckers is currently airing on HISTORY TV18 on every Friday. Ice Road Truckers: India Deadliest Road includes three celebrity drivers driving the trucks on one of the toughest terrains in the world. Himalayan terrains are not built for ordinary trucks, the show needs special engineering to successfully complete the show. And BharatBenz provided their Medium duty trucks MD 1214R helps the show running smoothly.
Ice Road Truckers – India's Deadliest Road features three drivers: Actress Mandira Bedi (She is the only female driver), Wrestler Sangram Singh and actor Varun Sharma. These three driving the BharatBenz MD 1214R medium-duty trucks in Leh-Ladakh Region. Their job is to deliver the essential load to remote villages during summer days. The roads cut off during severe winters so trucks should complete the show without any breakdown.
BharatBenz MDT 1214R is newly launched medium duty trucks which features improve fuel efficiency, new radial tyres and Multi Drive Mode (MDM) which allow the driver to change the engine settings depends on city condition or highway trucking with the push of a button. The truck comes with some really important features which help the celebrity drivers to complete the show. The features include Fog lamp for better visibility on cloudy roads, radial tyres for better traction, spacious cabin, A/C cabin without compromise on fuel efficiency and reliable aggregates which ensure minimal breakdown.
The MDT 1214R is powered by a powerful engine which produces maximum power of 140 hp @ 2500 RPM and maximum torque of 420 Nm @ 1500-2000 RPM. The truck is available in BS-III and BSIV emission compliances which ensure low greenhouse emission at the very crucial environment. The 200-litre fuel storage also ensures the truck go on longer distance without refilling again.
Leh-Ladakh region is known for its toughest route in the world and Ice Road Truckers show the challenges our driver faced during the everyday commute. BharatBenz Trucks not only provide the best in a class machine to tackle the toughest terrain but also assure the security/comfort of the driver, owner profitability, and less carbon footprint.
You can watch the Ice Road Truckers: India Deadliest Road on History TV18 on every Friday at 9 PM. You can watch the previous episode here.