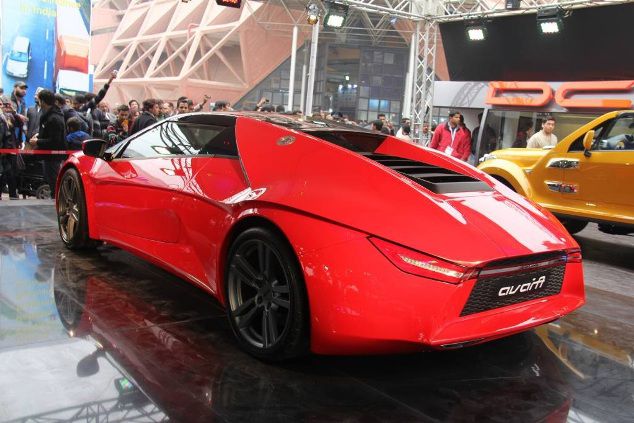 We all notice DC written on body of few of beautiful cars. Well that DC represents the initial of Mr. Dilip Chhabria. He is very well known person in India in creating concepts and one-off luxury cars. He has also designed the car used in the movie 'Taarzan:The Wonder Car'. He has also designed few Vanity Van for Bollywood stars. Now the Firm is focusing on low-cost sports car in India.
DC Design has over the course of the last several years, has developed high-quality tooling and prototyping techniques to bring to life the most spectacular of automotive designs. And the car you see here, the Avanti, is the result of these skills.
Avanti is the Sports Car which had been displayed at the Auto Expo 2012 held at Delhi. It is powered by a Ford EcoBoost 2.0-litre 4-cylinder motor. This VVT (variable valve timing)-equipped engine provides 240bhp at 5500rpm and 366 Nm of max torque at 3500rpm.The standard transmission choice is a six-speed manual unit, with a six-speed automatic on offer as an option. DC Design says the Avanti will have an electronically limited top speed of 250km/h.
Specification:
| | |
| --- | --- |
| Engine Type | 2.0L Four Cylinder, Turbocharged with direct injection/VVT DOHC |
| Maximum Power | 240 BHP at 5500 RPM |
| Maximum Torque | 270 lb/ft of torque at3500 RPM |
| Transmission | MMT6 6speed |
| Wheelbase | 2700 mm |
| Size | 4623 x 1967 x 1213 mm |
| Front Over hang | 993 mm |
| Rear Over hang | 930 mm |
| Ground clearance | 155 mm |
| Dry kerb Weight | 1567 Kg |
Initially production of Avanti will be 300 cars per year starting from 2013-2014 at DC's Pune Workshop. It had been priced about Rs. 25 lakh (ex-showroom).