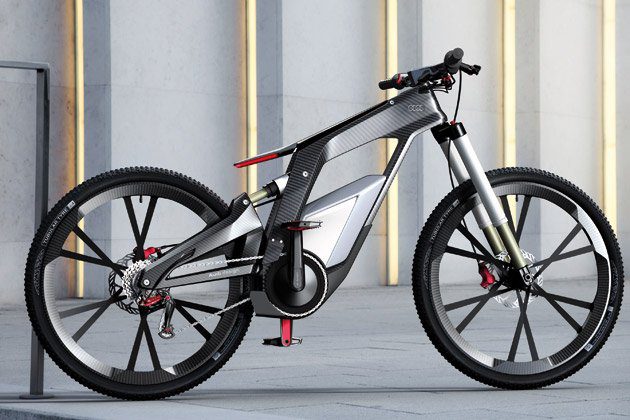 Audi revealed the new bicycle technology concept called as Audi e-bike. The Audi e-bike Worthersee brings the Audi brand principal – design, ultra, connect and e-tron into a bicycle. he Audi e-bike Wörthersee's ultra-light carbon-fiber frame weighs only 1,600 grams (3.53 lb). Small electric motor  fitted at the lowest point on the frame and it gives the max torque of 250 Nm. The Peak output of electric motor is 2.3 kW. The Lithium-ion batter weights about 5 kg and operates at voltage of 48 V. Its capacity is 530 Wh and it can be fully recharged from a 230 V supply in two and a half hours. As an alternative it can be easily detached from the bike and replaced by a recharged battery.
The rider can choose between pedal or electric motor. In 'Pure' mode, the rider can operate the bike by means of pedals only. In the 'Pedelec' mode the riser can use the electric motor to drive the bike with the top speed of up to 80 km/h and can be reached between 50-70 km/h. In 'Wheelie' mode the power flow is electronically controlled in order to assist the rider when the front wheel is in the air. Alternative operating modes are available, and can be selected by smartphone or directly at the e-bike: either 'Power Wheelie' with an adjustable wheelie angle for less skilled riders, or 'Balanced Wheelie' for those with more experience. In the latter mode the rider's balance is maintained electronically: as his or her weight is displaced forward or back, this is counteracted by either braking or accelerating the electric motor.
When it comes to specification, the Audi e-bike has nine-speed hydraulically actuated gear shift, two hydraulic disk brakes, adjustable seat, front and rear LED.
A small computer with touchscreen mounted at the top of the frame and it provides riding mode selection, recording trick sequences and adjustment of various e-bike functions such as electric pedaling assistance and lighting.. The display shows road speed, total distance covered, battery indicator, energy consumption and slope angle.