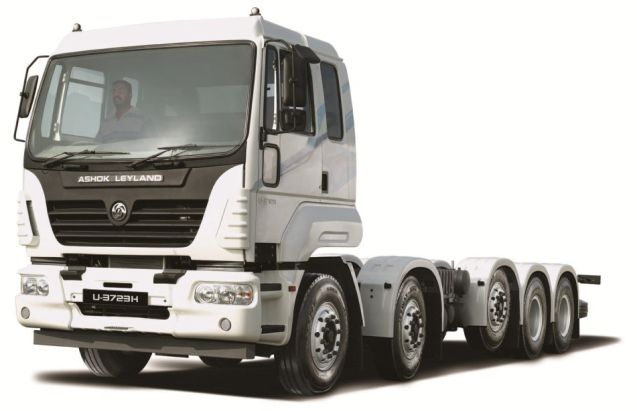 Ashok Leyland had launched Indian's first 37-tonne haulage truck with the highest payload of up to 27 tonnes. The truck built on the u-truck platform that guarantees superior performance, durability and best-in class operation efficiency.
The Ashok Leyland U-3723 H features five axles, twin steerable front axles, two rear axles and a self-steerable pusher lift axle at the middle that enables the vehicle to carry more loads in any conditions.
The U-3723 H packed with the fuel-efficient 225 HP 'H' Series engine and a 9-speed gearbox which gives max Power 225 HP at 2500 rpm and max Torque of 800 Nm at 1400-1900 rpm.
Aero-dynamic cab and lower unladed weight improved the fuel efficiency and optimized drive train and 11R20 tyres deliver improved drivability and effortless maneuverability. The feature-rich sleeper cab is designed to address driver comfort and safety especially during long distance freight operations. Other features include an optional AC and parabolic suspensions with shock absorbers.
Specifications:
Engine
H Series CRS BS 3
Max Power
225 HP at 2500 rpm
Max Torque
800 Nm at 1400-1900 rpm
Gearbox
9F + 1R
Clutch
380 mm RDC, hydraulically actuated with Air Assisted clutch booster
Front Axle
Twin steerable front axles
Capacity
6,000 Kg
Lift Axle
Forged 'I' Beam Reverse Elliot
Capacity
6,000 Kg
Ground Clearance
Laden: 100 mm
Unladed: 143 mm
Propeller Shaft
490 Series and 1710 HD series Interaxle shaft
Steering
Integral Power steering, 26.2:1 with relay cylinder
Suspension
Parabolic springs at front Air suspension for lift axle
Chassis Frame
279 x 90 x 8
Brakes
Dual line air brakes
Diesel Tan Capacity
400 litres
Overall Length
11,954 mm
Cabin
G91 Suspended sleeper cab
Max Speed
80 kmph
Turning Circle
23,600 mm