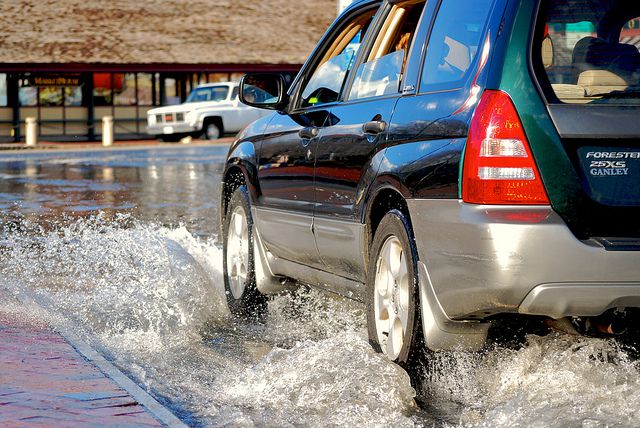 The Monsoon has arrived in India and most of us already start preparing for a day out in Rainy season. Rain season changes our daily schedule and same thing applied to car driving also. Car driving in pouring rain is not an easy task as you think. You've to keep few things in your mind while driving in the rain. Here are a few tips for Driving a car in the rain.
These tips are for Car drivers only. Tips for Riding Motorcycle in Rain.
Fog Light
Fog light play important role in rainy condition. Fog light help your car more visible to oncoming traffic. If you don't have a fog light in your car then turn on headlights. Also switch on tail lights which help your back traffic to spot your car. Visibility is the main problem in Rainy condition and lights help others to see your car on the road.
Maintain space
Always maintain distance from the vehicle ahead of you. Because the water spray from the vehicle ahead of you creates a water cloud which decrease the visibility. You never know what other drivers are going to do and in rainy condition your brakes won't stop you immediately.
Clean Windshield
Rain causes your windshield to fog up. Defrosters will help you to remove fog from the screen. Now in days most of the cars come with Climate control which adjust A/C to fight with outer conditions. If you don't have that feature then turn on the AC.
Most modern cars have a built-in rear window defroster which heated up electrodes embedded in the glass.
If you don't have anything, than simply pick up some cloth and clear the window regularly, especially the driver side.
Replace Wipers
Generally we won't give attention to our wipers but they also need maintenance. Replace your wipers regularly, if the blades are damaged than it'll not able to clean water from the windshield.
Avoid Hydroplaning
We won't find proper traction on wet roads. It's very important you should follow some rules to avoid hydroplaning
Drive slowly and carefully
Check out your

tyres

before going out in the rainy season.
If you start hydroplaning, don't brake suddenly or turn the wheel. Keep calm and wait for car regains traction.
Brake your car before entering the curves
In hydroplane situation, release the gas pedal slowly and steer the car straight or in the direction you want to go.
Check out the below video for How to avoid hydroplaning
Avoid driving through flood
In India, every year we heard the news about the over smart people who drive their car through flowing water. Don't try to be smart, never underestimate the power of water. Even a small amount of water takes your car away. If it's really urgent, then first check water level, if the water is deeper than the bottom third of your wheels than you may risk your life. Avoid it or wait for few hours.
Check your brakes
If you just passed through a deep water, test your brakes. Because they may be saturated. To avoid such condition, drive slowly and brake lightly and regularly, it'll dry the water. Brake earlier than you normally do in normal condition.
Oily surface
Oil when mix with water creates big trouble for drivers. The oil, rail water and rubber-dust creates dangerous skid mixture. You may lose the traction immediately. Be careful on the road especially near the highway hotels (Dhaaba) because most of the truck drivers repair their truck at such place and you'll find lots of oil on the road.
Check for Pothole
Indians Roads are full of the portal. Its almost impossible to find a pothole in rain season. Avoid it and slow down whenever you feel about such hole.
Warnings
Do not use Cruise control in the rain.
Never stop on the highway, if you do use parking light and do park your car below the road.
Always use seat belts and tell you other passengers to do the same.
Check for extra features in your car such as anti-lock brakes, traction control and all wheel drive. These features are really helpful on wet roads but you've to know how to use them or turn on

these

. Check your guide book.
Always have a good first aid box in your car.
Don't overload your car with extra luggage. In curves sudden shifting of weight may skid your car.
If you know any more tips, than please do share by commenting below.