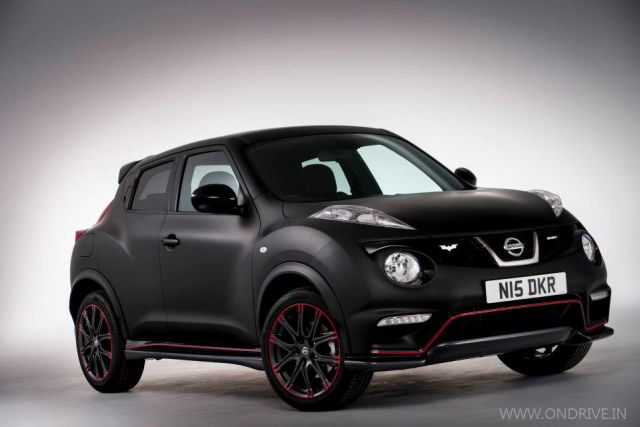 Nissan UK has created a themed Juke NISMO model which is inspired from the movie The Dark Knight Rises.
Nissan and Warner Bros teamed up to celebrate their new relationship, they came up with a unique crossover called The Dark Knight RisesTM Juke Nismo. The Crossover comes with a matte black with Bat badges on the front grille and tailgate. The Dark Knight RisesTM Juke Nismo based on the new Juke Nismo, it features the same 200 PS 1.6-litre turbocharged engine driving the front wheels through a six-speed manual gearbox – giving it a 0-62mph time of 7.8 seconds – as well as a Nismo bodykit, uprated suspension and enhanced interior.
Open the door and you're greeted by Bat logos on the kickplates and reflective Bat badges on the headrests of the suede-trimmed Nismo sports seats. Thanks to downlighters mounted under the door mirrors the famous Bat signal can be projected onto the floor area around the doors. A clever uplighter projects the same signal onto the black headlining inside too.
Unfortunately The Dark Knight RisesTM Juke Nismo is not available for sale. Only way you can win the car by entering a special competition at Builttothrill.co.uk. The competition runs until Feb 28,2013.
Gallery: