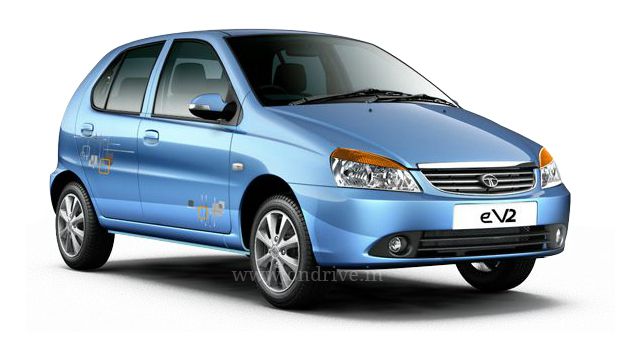 Tata Motors has launched the refreshed Tata Indica eV2 with new exteriors and additional convenience features. The exterior has been enhanced with new stylish headlamps, new front bumper, triple-step chrome tipped grille and an all new sporty rear spoiler with integrated stop lamp.
Tata Motors also revamped the interior of Indica eV2, now it features elegant shadow beige color and large comfortable seats. The top variants sports a premium wood finish centre console and host of other features like power windows, keyless entry, Bluetooth enabled music system and USB port, 4 spoke collapsible steering wheel, tachometer, rear parcel shelf, 60:40 rear seating, front and rear fog lamps.
Tata Indica eV2 equipped with 1396 cc CR4 Common Rail Diesel engine delivering max power of 70 PS at 4000 RPM and max torque of 140 NM at 1800-3000 RPM. They also improved gear ratios, starter motor protection and reduction in the weight of the car by around 10 Kg. Indica eV2 comes with Both Diesel as well as Petrol engine. Tata Indica eV2 delivers the mileage of 25 kmpl.
Two new features, the Auto-Drive Assist and Clutch-To-Start has been added in eV2.
The Auto-Drive Assist ensures that while climbing a gradient the engine will not stall even if the foot is completely taken off the clutch, thus enabling the driver to easily shift his foot to the accelerator.
The Clutch-To-Start feature ensures that the engine cannot be cranked unless the clutch is fully engaged. Hence there is no risk of re-crank if the engine is on.
The Tata Indica eV2 is available in 3 variants: Tata Indica eV2 LE (base variant), Tata Indica eV2 LS and Tata Indica eV2 LX (top-end variant). The range comes in two new colours — Spicy Red and Sea Blue, in addition to Neo Orange, Jet Silver and Mint White.
Tata Indica eV2 price in India:
Tata Motors has reduced the price by Rs. 23,000 and also offers a warranty of 24 months or 75000 Kms.
Diesel Engine:
Price in

Rs.

Tata Indica eV2 L
401,162
Tata Indica eV2 LE
443,571
Tata Indica eV2 LS
458,331
Tata Indica eV2 LX
487,619
Petrol Engine:
Price in

Rs.

Tata Indica eV2 GL
329,438
Tata Indica eV2 GLE
357,308
Tata Indica eV2 GLS
383,077
Tata Indica eV2 GLX
410,121