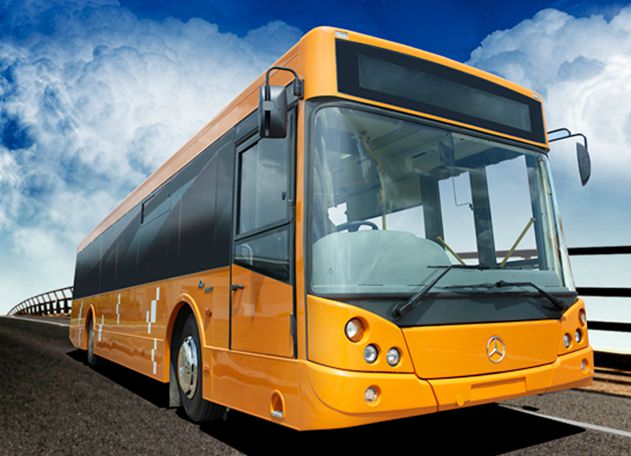 Today at Pune, Mercedes-Benz India launches its low entry City Bus first time for the Indian Market. At present Volvo buses ruling the Indian Market and the new City Bus from Mercedes-Benz will surely give strong competition to Volvo.The Mercedes-Benz City Bus has spacious interiors combined with low entry design facilitate ease of entry and exit for passengers. The Low ramp coupled with wheel chair ramp so that passengers can move inside the bus without any difficulty.
Mercedes-Benz redesigned the standards of city buses in terms of interiors, comfort, space and user friendliness. The bus has multiple charging points, comfort cushioning and powerful AC. Company also redesigned the driver cabin, the new driver's cabin is smart, ergonomical and safe with pneumatic seats and all important switches are conveniently accessible on the panel.
The Mercedes Benz City Bus is powered by a OM 926 Diesel engine with 252 hp of power and features highly economical drive system using BlueTec ® diesel technology. The New engine deliver the peak power of 252 hp at 2200 RPM and peak torque of 900 Nm. It consumes low fuel and automatic gearbox provides ease of driving in heavy traffic.
Mercedes-Benz City Bus is the first bus to be certified with bus body code certification in India. State-of-the-art air suspension of the City Bus increases the passenger comfort and City Bus is enhanced by air suspension. The City Bus has gone through rough road testing and endurance testing along with overall performance testing and fine-tuning. The multi stage development and testing performance the improve the product quality which reduce the Maintenance charge.
Price:
The base version of Mercedes-Benz City Bus is priced at Rs. 90 Lakh (Ex-factory Pune)
Specifications:
| | |
| --- | --- |
| Engine Type | OM 926 LA, 6 cylinders, vertical in-line, turbo charged and inter cooled |
| Power | 252 hp at 2,200 RPM |
| Torque | 900 Nm at 1,200-1,600 RPM |
| Displacement | 7,200 cc |
| Gearbox | Automatic gearbox |
| Brakes | Disk brakes, dual circuit, full air system with ABS |
| Fuel Tank | 280 litres steel tank |
| Suspension Front Axle | Air suspension, 2 air bellows, 2 telescopic shock absorbers |
| Suspension rear Axle | Air suspension, 4 air bellows, 4 telescopic shock absorbers & stabilizer |
| Passenger doors | 1 in the front and 1 in the middle |
| Type of Doors | In-swing (2-wing) – electro-pneumatic |
| Roof hatches | 2 manually operated with emergency exit |
| Wheelchair ramp | Mechanical ramp |
| AC | Engine driven air conditioner |
| No of seats | 37 seats |