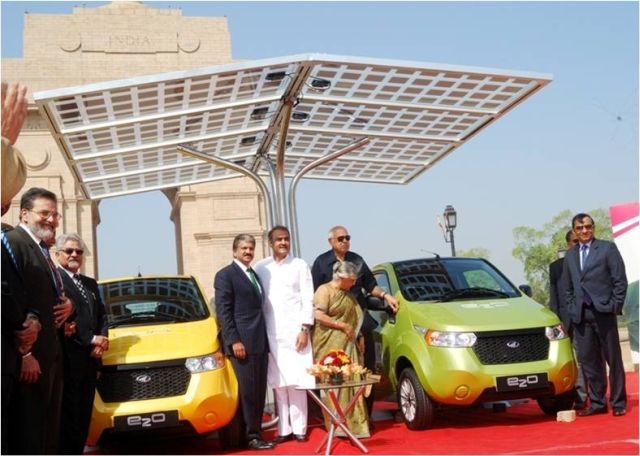 Mahindra Reva unveiled it's Electric Car, the Mahindra e2o at a ceremony at India Gate in New Delhi. The Vehicle is priced at Rs. 5.96 lacks (On-road Delhi). Mahindra e20 is powered by next generation lithium-ion batteries and a 3 phase induction electric motor which push the car to 100 km per charge that's too with four adults.
The Mahindra e20 can be connected with any Smartphone device. By downloading an application, the customer has the power to remotely manage several functions of the e2o. For example: the Smartphone application can help lock the car by simply sending it a lock command and activate the cars air-conditioning remotely. The trip planner in the application integrates the distance to empty information from the Mahindra e2o into the maps and help plan each journey with the current charge.
The car has 10 on board computers which provides real time feedback of all the vehicle's system and it sends alerts if anything has to fix. Apart from telling you that your Mahindra e2o is locked or that the cabin is at a pre-set temperature with the air conditioning turned on, the Mahindra e2o is also capable of telling you that you have forgotten to switch on the mains to charge the car, in spite of plugging it in. Furthermore, this intelligent EV is capable of monitoring how efficiently you drive and can even provide details of your drive efficiency over the past six days in graphical form.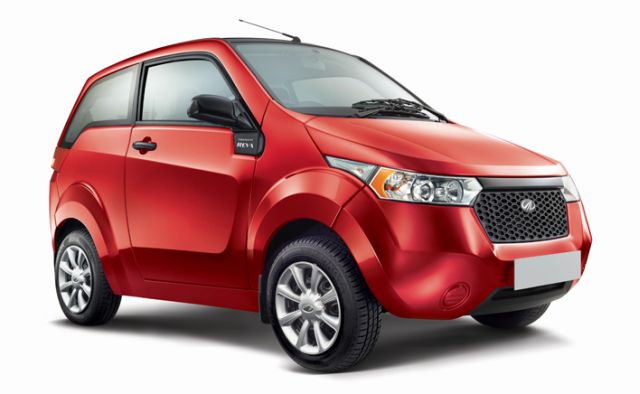 The real problem with Electric cars is to find charging socket. But with e20, Customers can charge from any 15A power socket available in any home. With just 5 hours required for fully charging your Mahindra e2o – your trusted car will be ready to be driven over 100 kms. Mahindra e2o also has reserve power. When you're running low on charge, you can use the app to remotely activate the reserve energy.
The Mahindra e2o comeswith a 15.5 cms (6.2 in.) touch screen, with factory fitted GPS navigation system, radio, DVD, Blue tooth, iPod connectivity, full digital cluster, electrically operated wing mirrors, keyless entry & start/stop button, projector headlamps, LED tail lamps, reverse camera, 4JBL speakers & 2 tweeters.
The regenerative braking feature in the Mahindra e2o also pumps energy back into the car's batteries and charges them every time you slow down or apply the brakes.
The Mahindra e2o will be available in 6 colors: Silver, Blue, Green, White, Red and Yellow.
Other Key Safety Features:
High strength steel space frame construction that cocoons the occupants
Colour impregnated, dent resistant polymer body panels
ISOFIX child seat mounts with ALR seat belts
Adjustable headrests for all 4 seats
Large front crumple zone
Dual side impact beams
Hood designed for pedestrian impact safety
Batteries under seat, ensuring a low center of gravity