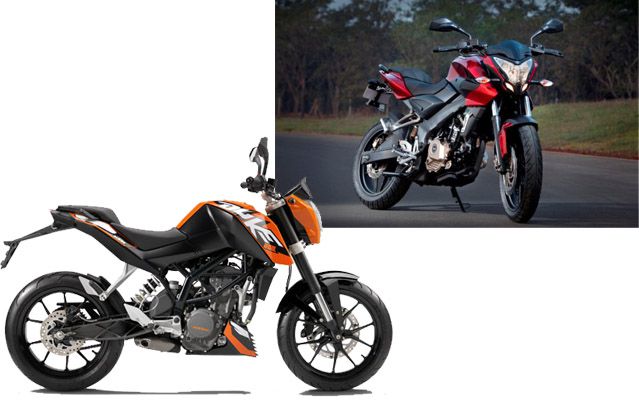 KTM Duke 200 was launched in INDIA on 24th January 2012; the approx. price of the bike goes about Rs 1, 30,000. Duke 200 has sport looks, sporty feel and sporty feel and don't go to the 200CC engine this monster produces 25 BHP and drives an impressive initial acceleration of 3.30sec.
It is a well known phrase that anything with prefix PULSAR can be sold in INDIAN market and on to that with this type of monster; it's easy to set records. The all new Bajaj Pulsar 200NS (NS stands for Naked Sport) is 199.9CC bike.
Pulsar 200NS is a 199.9CC bike with triple spark and 6 speed manual transmission and setting the high speed of 136kph. It comes with the Analogue-digital console. The analog-digital console provides a sporty look to the bike and feels the macho style with designer edges. The price range of Pulsar 200NS lies about Rs. 90,000.
Both bikes has 6-speed transmission and 200 cc displacement. Pulsar 200 NS gives max Power of 23.17 Bhp at 9500 rpm and Max Torque of 18.3 Nm at 8000 rpm whereas KTM max output is 25 Bhp at 10000 rpm and max torque of 19.8 Nm at 8000 rpm. KTM duke uses fuel injection while the pulsar uses carburetor for ignition.
No doubt that both bikes are made for speed driving. Duke 200 reaches 100 kmph in 9 seconds while Pulsar 200 NS took 9.83 seconds to reach 100 kmph. Difference in the speed is because of weight, Duke 200 is lighter than Pulsar 200 NS.
The basic difference in the Baja Pulsar 200NS and KTM Duke 200 is about their power, chassis and importantly about the money, after all it matters.
Specification of KTM Duke 200 vs. Bajaj Pulsar 200 NS :
| | KTM Duke 200 | Baja Pulsar 200 NS |
| --- | --- | --- |
| Engine | DOHC 4-valve liquid cooled | Type SOHC – 4V – Liquid Cooled |
| Displacement | 199.5 | 199.5 |
| Power | 25 Ps at 10,000 rpm | 23.5 Ps at 9500 rpm |
| Torque | 19 Nm at 8000 rpm | 18.3 Nm at 8000 rpm |
| Bore | 72 mm | 72 mm |
| Stroke | 49 mm | 49 mm |
| Transmission | 6-speed | 6-speed |
| Fuel Injector | Fuel injected | Carburetor |
| Spark plugs | 1 | 3 |
| Frame Type | Tubular space frame made from steel tubes, powder-coated | Pressed steel Perimeter Frame |
| Wheelbase | 1361 mm | 1363 mm |
| Kerb Weight | 136 Kg | 145 Kg |
| Fuel Tank Capacity | 10.5 L | 12 L |
| Ground Clearance | 165 mm | 167 mm |
| Seat height | 810 mm | 805 mm |
| 0-60 kmph | 3.2 sec | 3.61 sec |
| 0-100 kmph | 9.2 sec | 9.83 |
| Top Speed | 140 kmph | 136 kmph |
| Price | Rs. 1.30 Lakh | Under 1 Lakh |