Driverless car will be seen on Nevada's road very soon. Department of motor vehicles has sanctioned license for google's driverless car "TOYATA PRIUS" but this vehicle will go on test drives only. After test on long trip, this driverless car will be seen on Nevada's road in reality.
This car has also tested on the roads of California and the golden gate bridge of San Francisco. During that time one driver is also present because if there is any problem occurred in the software or the software stops working then this driver can help them.
License no. of these car is "001". The companies which want to do such testing will need an insurance bond of $1 million and they will also have to provide the detailed outlines that where they have to test this vehicle and under what conditions.
What are the features of this car?
This driverless car is featured with a license plate having a red background and features the infinity symbol. This plate distinguish this car from other cars.
This car uses the video camera, radar sensors and lasers which identifies traffic and allows the driver to sit back and relax. The sensors used in the car help to see the cars ,pedestrians and other obstacles.
This car also provided the sophisticated software which allows the car to read the traffic signs and signals and actually drive itself through the traffic.
The system drives at a single speed limit which is store in the maps provided by the car .
It determines the distance from other vehicles by using its system of sensors.
This car also provides override which allows human to take control of the car by stepping on the brake or by turning wheel.
Structure of the car:
In the back seats, there are 36 inches of legroom, not great for midsize cars. It has 60/40 split rear seats having a folding Centre armrest with two cup holders. This is for that time when there will be no third passenger in the car.
Cargo space is generous with 40 cubic feet of capacity when the back seats are dropped flat.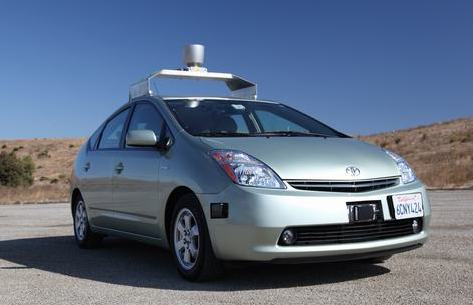 Google Self Driving Car in Action:
[iframe: width="640″ height="355″ src="http://www.youtube.com/embed/cdgQpa1pUUE?rel=0″ frameborder="0″ allowfullscreen]
Conditions for testing car:
This license has given under one condition as there must be two people inside the car. One should be on the driver seat and able to take over the controls and other one is in any part of the car.
It also requires complete description of self driving technology and detailed safety plans and also a plan of hiring test drivers.
Conclusion:
Nevada DMV director 'Bruce Breslow' said in his statement that "Autonomous vehicles are the 'car of future '." This state has also plan that these autonomous vehicles also owned by the member of the public. This vehicle has capability to analyze the driving environment and operating the vehicle safely by the use of computers sensors and other system used in this car.
Google is the first company to test such type of cars and other companies are also looking for such type of technology and they would love to test this type of technology created by the Google.
You can also use your mobile phones or texting messages on mobile phone while driving this car. This car is considered to be the car of the future and very soon this car got the green license i.e. this car is very soon seen on the America's road in reality.
At last, I would like to say that there are more than 30,000 people are killed every year in crashes. These crashes are caused by the human errors. To reduce these crashes, computer driven cars are launched which can reduces the traffic deaths and this will be possible only when all car are computer driven.
Article by: Kriti Jain