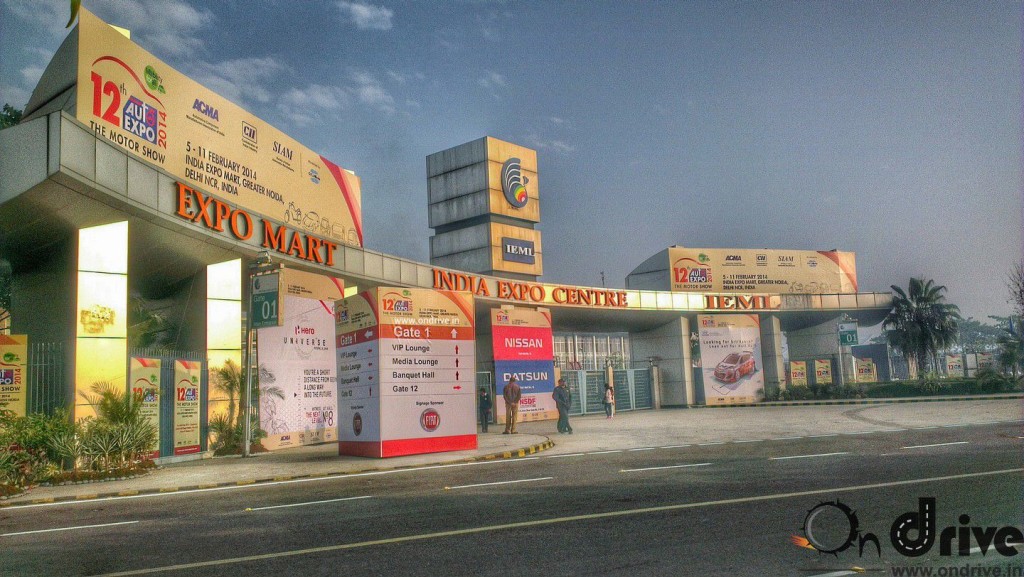 Auto Expo 2014, the biennial show of the Indian automotive industry, came to a successful close on Day 7 of the Motor Show at India Expo Mart, Greater Noida. The show was jointly organized by Society of Indian Automobile Manufacturers (SIAM), Automotive Component Manufacturers Association (ACMA) and Confederation of Indian Industry (CII). The show was held from 5 Feb to 11 Feb 2014. The 5 and 6th Feb is exclusive to Media only.
The Auto Expo 2014 had 105 stalls including both Indian as well as global manufacturers. In Two-wheeler category, the show witnessed 9 Indians launched and 3 global launches, In the commercial vehicle, 9 India launches and 8 global launches and In four-wheelers, 25 India launches and 15 global launches.
This time Auto Expo held at new venue which is quite bigger than old Pragati Maidan. The India Expo Mart, Greater Noida is the greatest venue with Express highway connectivity, but again normal people travel with Metro. Organizer runs free buses from Botanical Garden Metro stations to India Expo Mart and vice versa to make the visitors comfortable. And because of the good connectivity, Around 5,61,000 people attended the show.
The first 2 days were exclusive for Media where numbers of launches, concept unveiled by the manufacturers and showcased the Auto Industry plan for Next two years. Organizer took special care for Media people and allow them to take information from the show. They also set up a special Media lounge with PC, Wi-Fi Connectivity and Free Lunch and breakfast.
From 5th Feb 2014, the show was open for public and on the first day record number of people attended the show. In weekends footfall reaches to 1 lakh+.
The show venue was huge, but still navigating to all the halls were extremely easy thanks to so many instructions sign boards and official mobile apps which help visitors reach their favorite hall.
Compacts SUV's and Concepts were show stoppers.
Almost every Four-wheeler companies launched or unveiled the Compact SUV. It seems currently Compact SUV is the hottest trend in Indian Automobile industry thanks to the huge success of Renault Duster, Ford EcoSports and Nissan Terrano.
Concept vehicles also rock the Auto Expo 2014, people really wanted to know how future cars will look like. Electric vehicles were also in good number. Both two-wheeler and four-wheeler companies unveiled the electric vehicles.
In Two Wheelers segment, show witness some incredible motorcycles and scooters from different manufacturers. Almost every two-wheeler companies receive huge attention. We've seen premium super bikes, cruisers, commuter, electric, commercial bikes, sports bike, naked bikes and all kinds of scooters. Hero stole the show in the scooters segment, Hero launched three scooters at Auto Expo 2014: Hero Dash, Hero Dare and 150cc Hero ZIR. This time no launches from Bajaj which was quite strange for me, I was expecting at least one bike launch from them. Honda too showcased the array of bikes.
When it comes to Motor Show, people generally think about bikes and cars, but here at Auto Expo 2014, commercial vehicle manufacturers were also present at the show with their monster vehicles. We have also seen 9 India launches from Commercial vehicle segment and people showed their interest towards commercial vehicles which is pretty good for volatile industry which is currently facing a downfall.
OnDrive like to thanks the Organizers of Auto Expo 2014, Perfect Relations and ACG Group for the awesome Motor Show. Till now farewell from us and Insha Allah, we'll meet again at Auto Expo 2016.
Auto Expo 2014 Gallery: