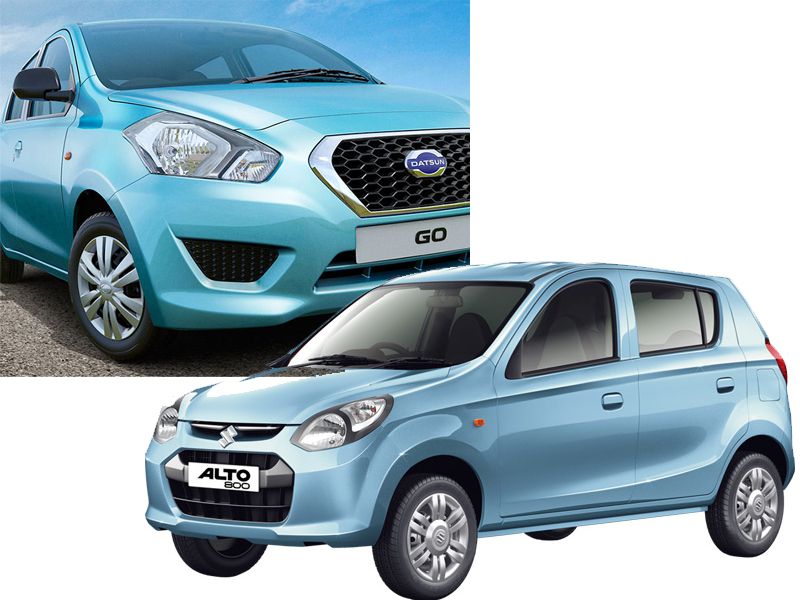 Maruti Suzuki is the king of entry level hatchback, the company rules this segment for decades with Maruti 800, but now company stopped the production of iconic car and instead they're pushing its new offering Maruti Suzuki Alto 800, born from the bonding of 800 and Alto. Nissan and Datsun is ready with Datsun Go to give strong fight to Maruti Suzuki in the entry level hatchback segment.
Nissan Datsun GO
Datsun GO is powered by 3 cylinder 1.2L petrol engine which gives maximum power of 68PS @ 5000 RPM and maximum torque of 104 Nm @ 4000 RPM. The Car also has engine immobilizer. In exterior, you'll find Datsun character Grille, euro-style roofline, long wheelbase and high ground clearance. In Interior department, the Datsun GO is much better than Alto 800, it has more space specially for rear passengers, more shoulder and head room and very silent cabin.
Other features include, Mobile Docking Station with USB Charging. With this Mobile Docking Station, the Smartphone mounts right on the dashboard (in portrait or landscape) and plugs into two door speakers and USB charging cable be used for charging phones at the same time.
Why you should buy Datsun GO?
Powerful engine with 1200cc engine
More leg space, especially for back seat passengers
Quality Interior
For the music lover, Mobile Docking station with USB charging is very handy
Maruti Suzuki Alto 800
The Alto 800 replaces Alto and 800. The Alto 800 is powered by 3 cylinders 796cc F8D Engine mated with 5 speed Manual Transmission, the engine will produce maximum power of 48PS @ 6000 RPM and maximum torque of 79 Nm @ 3500 RPM. In exterior, You'll find Petal shaped headlamps along with stylish grille and bumper. In Interior, a company designed slim doors to maximize interior passenger space and there is more room for shoulder and head. In Instrumentation, Maruti offers basic infotainment system. The Alto 800 also comes with Engine Immobilizer.
Why you should buy Alto 800?
Low pricing, Alto 800 is cheaper than Datsun GO
High resale value
Easy availability of spare parts and service
Maruti spare parts are cheaper
Specifications:
Datsun GO
Alto 800
Engine
3 Cylinder, 1.2L Petrol
3 Cylinder, F8D Petrol
Displacement
1200cc
796cc
Transmission
5 Speed Manual Transmission
5 Speed Manual Transmission
Maximum Power
67

Hp

@ 5000 RPM
48 PS @ 6000 RPM
Maximum Torque
104 Nm @ 4000 RPM
69 Nm @ 3500 RPM
Dimension
3785 x 1635 x 1485 mm
3395 x 1490 x 1475 mm
Wheelbase
2450 mm
2360 mm
Power Steering
Yes (High Model only)
Yes (High Model only)
Fuel Efficiency
20.63 kmpl
22.74 kmpl
Price (ex-showroom Delhi)
Starting from ₹ 3.12 Lakh
Starting from ₹ 2.72 Lakh
Conclusion:
Nissan Datsun GO easily beat Maruti Suzuki Alto 800 in terms of Engine performance, exterior and Interior space. But in India, Maruti Suzuki consider as a trusted brand and also price factor will be plus point for Alto 800.