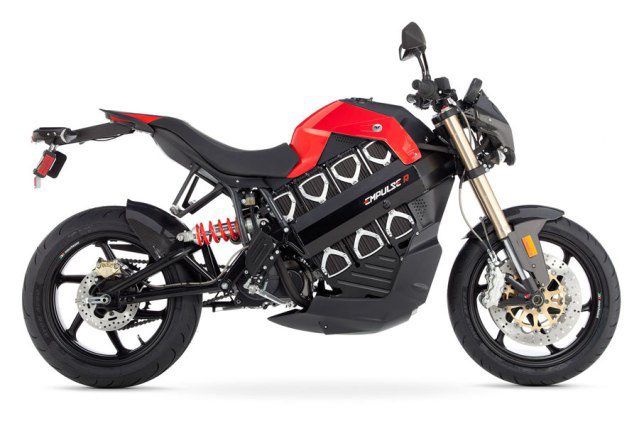 Brammo Inc, The American electric motorcycle company unveiled the production version of Electric motorcycle Empulse and Empulse R. The Empulse is the only electric motor cycle which has top speed of 160 kmph, breakthrough battery and powertrain system enabling a great zero-emission experience. The Empulse comes with a water-cooled AC motor and fully integrated IET(TM) six speed transmission, seating for two, regenerative braking and on board J1772 Level 2 charging capability.
The Brammo Empulse body work is all plastic, has semi adjustable front suspension and semi adjustable rear suspension.
The Brammo Empulse R uses carbon fiber for headlight shroud, front and rear fenders, top panel and the rear light housing.
The Empulse is available in three different colors: True Blood Red, Eclipse Black and White Noise.
Specifications:
Motor Type
Permanent Magnet AC (PMAC) – Water Cooled
Peak Power
50 KW at 8200 rpm
Peak Continuous Current
270 amps
Max Torque
63 Nm
Transmission
IET 6 Speed gearbox with multi-plate, hydraulic activated wet clutch
Battery Recharge Time
3.5 hours- 8 hours
Every 10 minutes of Level II charging adds up to 5 miles of range
Top Speed
160 kmph
Driving Range
City: 195 km
Highway: 90 km
Combined: 124 km
Price of Brammo Impulse:
Empulse is available with 2 Years (Limited Factory Warranty) 1 year Fender-to-Fender Limited Warranty, 2 year Limited Powertrain Warranty (Batteries and Motor).
Price of Empulse: $16,9995
Price of Empulse R: $18,995
Gallery: